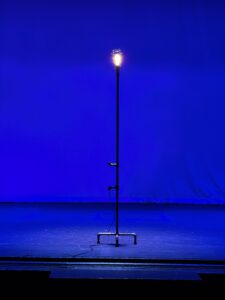 The Derry Opera House is located in the historic Adams Memorial Building at 29 West Broadway in downtown Derry on the corner of Maple Street.
The building was designed by architect George G. Adams of Lawrence, Massachusetts and completed in 1904. It is a Colonial Revival structure for what was at the time a small community. The building originally housed a variety of municipal offices and the local library. The theater is located on the upper level. It was listed on the National Register of Historic Places in 1982 and was twice damaged by fire (1914 and 1927), necessitating rebuilding of portions of its interior. A major, $1.5 million renovation of the Adams Memorial Building was completed in 2001.
The Opera House has upgraded heating, air conditioning and electric systems, upgraded rest rooms, a new elevator, sprinkler system, and dressing rooms.
The theater is handicap accessible and seats up to 350 patrons. The balcony is also available for seating, with restored theatre-style seats from the Boston Opera House.
The historic Derry Opera House offers a variety of shows including Broadway musicals, plays, children¹s theater, dance, concerts and fine art shows. Shows are produced by various local performing arts groups.
The Derry Opera House is operated by the Greater Derry Arts Council. If you would like information on renting the Opera House for your next production, please click "Rental Information" in the menu at the top of this page.